Our goal is to partner with you in your child's Christian education.
Enrollment at JCS is open to every family who desires a Christ-centered education. Jenison Christian School admits students regardless of church denomination, race, or ethnicity.
Preschool ENROLLMENT
STEP 2: Submit $75 enrollment deposit within 2 weeks of submitting the JCS ONLINE Admissions Form. There are 3 ways to submit the deposit:
Submit payment online via Debit Card/Checking or Savings Account (https://payments.jenisonchristian.org/)
Drop a check or cash off at the JCS Office (7726 Graceland Dr, Jenison, MI 49428)
Send a check via mail to: Jenison Christian School 7726 Graceland Dr, Jenison, MI 49428
STEP 3: Turn in additional enrollment paperwork by September 2, 2022
Child Immunization Record
---
PreK - 8th Grade ENROLLMENT
**Enrollment for current PreK-7th grade students will begin when enrollment paperwork is sent out in April, after spring break.**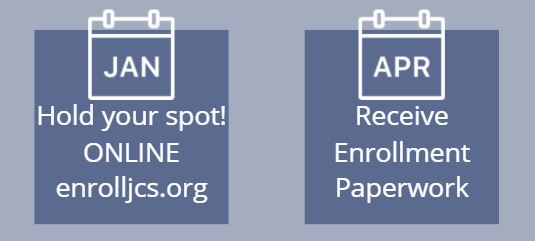 STEP 1 is only for NEW incoming students to JCS in PreK-8th grade. If your child attended PreK-7th grade at JCS in 2021/2022, you do NOT need to fill out the JCS ONLINE Enrollment Form.
Completing STEP 1 allows us to 'Hold your Spot!' for 2022/2023.
STEP 2: In April (the week after spring break), you will be mailed the enrollment paperwork. This will contain a checklist of the items you will need turned in to complete the enrollment process.
Kindergarten Screening
We HIGHLY recommend that all students entering Kindergarten sign up for a Kindergarten screening appointment. If you are wavering between PreK vs. K, this is an excellent opportunity for a JCS teacher to screen your child to determine which program will be best for your child.
K Screening dates: February 4 & 5
How to sign up? Click HERE!